Introducing Campfire Comfort - a captivating blend of flavors that transports you to the heartwarming embrace of a cozy campfire evening, all within the confines of your coffee cup. Immerse yourself in the rustic charm and soothing ambiance of the great outdoors with every sip of this exquisitely crafted coffee creation.
Crafted with the utmost care, Campfire Comfort boasts a harmonious balance between its alluring flavors. The smooth and mellow notes of vanilla caress your taste buds, while the subtle warmth of bourbon adds a layer of depth and complexity that's as satisfying as a heartfelt conversation by the fire. 
Whether you're embarking on a real camping adventure, savoring a leisurely morning at home, or seeking a moment of respite during a busy day, Campfire Comfort is your steadfast companion. Its versatility knows no bounds – enjoy it piping hot in your favorite mug or over ice for a refreshing twist.
Campfire Comfort transcends beyond a mere beverage – it's a nostalgia-inducing experience that ignites memories of togetherness, laughter, and the serenity of nature. Share the warmth and magic of Campfire Comfort with friends and loved ones, or relish it in solitude as you embrace the tranquility of the wilderness.

Indulge in the soul-soothing embrace of Campfire Comfort and let its vanilla and bourbon-kissed allure envelop you. Whether you're reminiscing about past camping trips or creating new cherished moments, every cup is an invitation to escape into a world of comfort, wherever you may be.
Regular price
$16.00 USD
Sale price
$14.00 USD
Unit price
per
Sale
Sold out
Share
View full details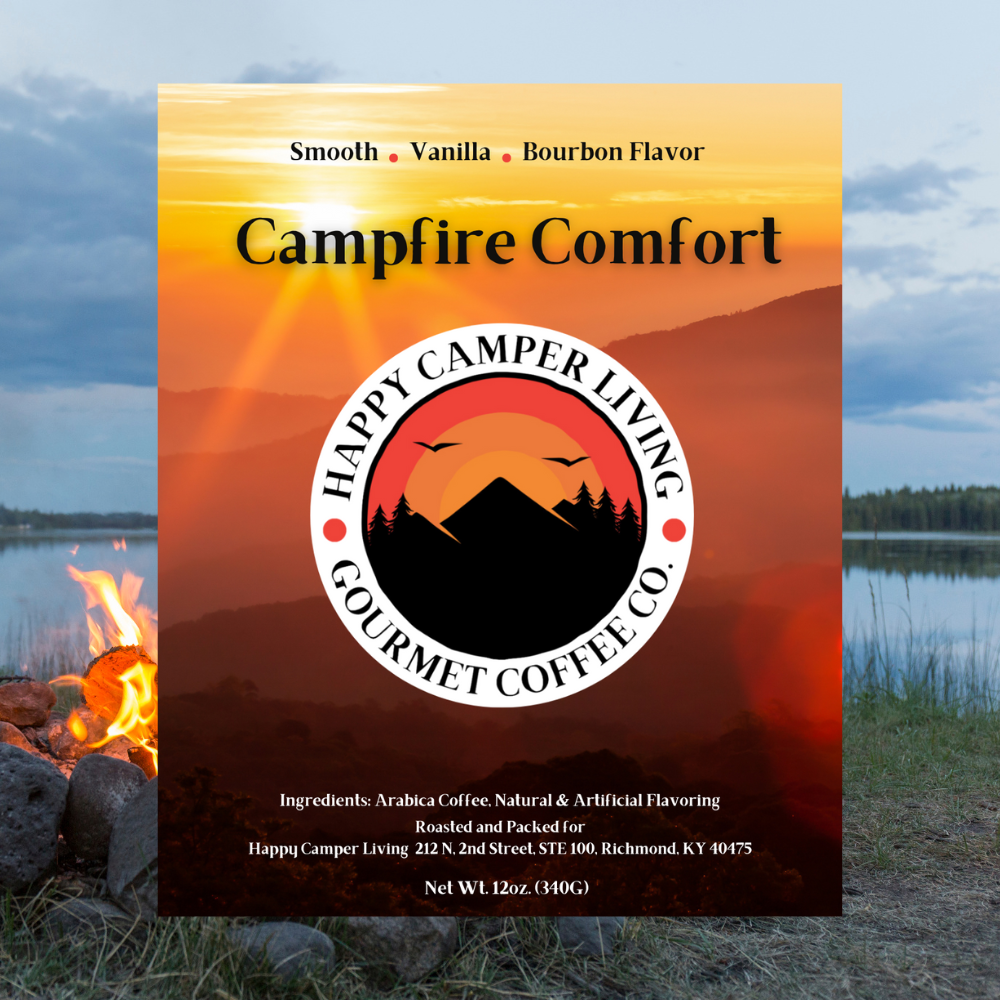 Coffees
Coffee is great. Can't even go back to my other brands, they are ucky now. Can't drink regular, store bought coffee. I'm spoiled! Best coffee around now, Thank you!
Fantastic smooth coffee
I have made 2 orders now and 3 flavors! So pleased with these coffee flavors! Everything is great and would make great Christmas gifts also! Thanks for making great coffee!
Campfire Comfort Gourmet Flavored Coffee - 12 oz. 100% Arabica Bean